Community railways are on the right track
Details

Parent Category: Society
Category: Tourism and travel
Hits: 1260
Community railways are on the right track

Community-run railway lines are thriving in rural and urban areas despite funding cuts

by Paul Salveson
Tuesday 31 May 2011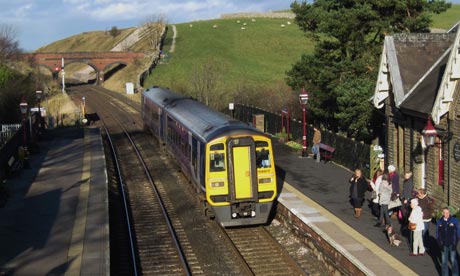 Community railways such as the picturesque Settle-Carlisle line, above, are looking to boost their revenue by providing station cafes and trolley services on board. Photograph: Paul Salveson

Community rail partnerships have transformed many of Britain's local railways, and not just rural branch lines transporting tourists through some of our most scenic countryside. The partnerships cover around 60 lines, some of them urban routes in major cities where community rail is playing a role in urban regeneration. They bring together train operators, Network Rail, local authorities and more than 100 "station friends" groups and community groups that promote lines which were threatened with closure.

Many of the lines have experienced double-digit growth, thanks to imaginative promotion and community involvement, backed up by modest investment. Stations have experienced a new lease of life through community adoption, including a social enterprise which runs the booking office of a formerly unstaffed rural station.

Railways minister Theresa Villiers has praised the "ideas, innovation and enthusiasm" of community rail partnerships. And their services could be in more demand than ever, following last month's government-commissioned report into rail industry costs by Sir Roy McNulty. He called for £1bn in costs to be stripped out of the industry and, while not recommending line closures, he floated the idea of phasing out ticket offices in small stations.

But as local authorities face hard decisions over budgets, some of these partnerships have already had their funding reduced and train operators are unable to make up the shortfall.

The Severnside Community Rail Partnership covers local routes in the Bristol area, including the branch to Avonmouth and Severn Beach. It runs through some of the most deprived parts of the south-west. The partnership is working to make stations more friendly and welcoming and to reduce crime, vandalism and antisocial behaviour. "Better stations, with community involvement, encourage more people to use the train," says Keith Walton, the partnership's chair.

Stapleton Road station, on the Severn Beach line has been transformed through community involvement and boasts a mural celebrating the communities served by the station. Alongside the station is Roots, a community-run garden centre, located on formerly derelict railway land. The partnership worked with Network Rail to clear up the area and it is now a flourishing example of social enterprise.

At other stations along the line school students have created artwork which has transformed the appearance of what were once run-down, depressing eyesores. The partnership has also worked with the Probation Service in using offenders to help with environmental projects. The local "community payback" team has cleared decades of accumulated debris at stations prior to community groups moving in to plant the areas with shrubs and flowers.

Devon and Cornwall has a network of rural branch lines, most of which British Rail chairman Dr Richard Beeching wanted to shut in the 1960s in his controversial report on the reshaping of Britain's railways, popularly known as the Beeching Axe. Today they are thriving, thanks to the work of the Devon and Cornwall Rail Partnership. Based at the University of Plymouth, it brings together the two county councils, train operator First Great Western, and some unusual partners.

"We have developed a really successful partnership with the university students' union," says Rebecca Catterall, the partnership's development officer. "Groups of students regularly go out to local stations and do a range of gardening, environmental and art work. They find it's a great way to see the local area, meet new people and make a positive contribution."

Funding is proving a problem with the Penistone Line Partnership, which runs trains from Huddersfield to Sheffield and is one of Britain's first community rail partnerships, set up in 1993. It is best known for its live music and real ale trains, though it also works with local schools and Huddersfield's black and minority ethnic communities.

It can only afford a two-days a week contract for the partnership officer, Rowena Chantler. Partnership chair, Neil Bentley, whose day job is driving trains for Northern Rail, says: "We have achieved a lot with volunteers, but having a paid worker makes a massive difference and helps to pull in more volunteers." The partnership generates some income through bar sales on the music trains and selling literature about the line, including walks guides.

Hard work

Many stations now have "friends" groups that look after gardens and create artwork. The most innovative example is Gobowen in Shropshire. The station was unstaffed for many years until a local teacher, the late David Lloyd, had the idea of using his pupils to run a booking office as an educational project.

Things have moved on since then and Lloyd founded Severn-Dee Travel as a not-for-profit company, which runs the booking office. Use of the station has nearly doubled in the last five years and Severn Dee is a successful business. Sheila Dee, the community rail officer for the line and a director of the company, says that part of the growth is down to having staff at the station. "People from Oswestry and surrounding villages use the station knowing they can get good information and journey advice."

The station staff can handle European travel, group bookings and specialise in schools travel – a much wider portfolio than a normal station booking office. Severn Dee has stimulated other local businesses. Later this summer a cafe will open on the station and one of the old railway buildings is already used as a GP surgery.

"Gobowen offers a way forward for other stations which are either unstaffed or facing booking office cuts," says Dee. "But potential station businesses need to be prepared for a lot of hard work!"

Other partnerships are looking at ways of generating revenue through trading. The Settle-Carlisle Railway Development Company runs a flourishing station cafe at Skipton and provides an on-train trolley service along the scenic route.

Despite looming local authority cuts, Neil Buxton, general manager of the Association of Community Rail Partnerships (ACoRP), says he is "optimistic" about the future. "A small number of councils have withdrawn their support. But the contribution our members make to regeneration and social inclusion is being recognised, as well as the transport benefits."

The signs are that most community rail partnerships will survive the austerity drive, though some with less capacity. Dr Beeching wouldn't be pleased, but many local communities will be.

• Paul Salveson set up the Association of Community Rail Partnerships and is a consultant on rail issues.

Source: Guardian UK.